Yesterday and today in Rome, a most beautiful event of the Year of Faith is taking place. The 'Marian Day' of the year is today, on the anniversary of the
Miracle of the Sun
at Fatima. The statue of Our Lady of Fatima has travelled from her home in the Chapel of the Apparitions in that shrine to Rome, and there have been myriad events over the weekend. It will all culminate today as Pope Francis consecrates the whole world to the Immaculate Heart of Mary, or properly speaking, to Jesus through Mary.
Here in Madonna House, we have our own statue of Our Lady of Fatima, actually one of the three official statues commissioned to be 'pilgrim Virgins'. It was in the care of our associate priest Fr. Patrick Moore SFM, who travelled around the world twenty times with it, bringing the message of Our Lady of Fatima everywhere. He had a great love of MH and willed the statue to us at his death.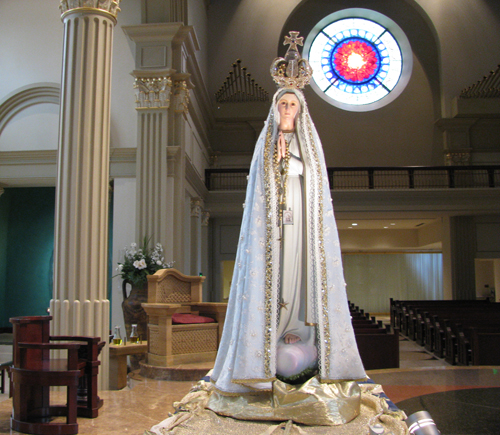 Pilgrim Virgin of Fatima (not our MH statue, though)
So today we are going to have our own little pilgrimage with Our Lady from the upstairs chapel where she now lives to our Russian chapel in the woods. At the end of Vespers we will renew our own consecration to Jesus through Her, according to the formula of St. Louis de Montfort.
So what's it all about, anyhow? It's all about faith, right? In this Year of Faith, the Church is holding out Mary as the pattern of the believing Christian, the blessed one who believed that what the Lord had said would be done to her. That's the essence of faith, that what God says is true, and that we can build our life upon it. So I want to simply offer here what I wrote on Mary and faith in my book
The Air We Breathe,
on Our Lady in the writings and thought of Catherine de Hueck Doherty. May Our Lady help us all to come to a deeper faith through our efforts to entrust ourselves to her more deeply:
"The tragedy of our era is a lack of faith."

[i]

The way back to God and love that the world needs to find is the way of faith. When Catherine speaks of the lack of faith in the world, she primarily means those who are in the Church but who are not living what they say they believe. "To profess to believe, and not to believe, is one of the great tragedies of our times. People look at Christians—be they Catholic or Protestant—and say to themselves: 'Those people do not love each other, not the way God says they should. There is no sign of it.'"[ii]
Faith is not, for Catherine, something that remains in the intellect as an act of assent to some truth. For her, faith must be expressed in action and in obedience. In this she stands in a tradition extending back to St. Paul (cf. Rom 1:5; 16:26). Mary shows us what this obedience looks like, and points to us the way we are to walk to bring faith back into the world. First, there is her acceptance of becoming pregnant:
She realized fully well what [this] meant…Joseph didn't know what to do…Would you believe that your wife was overshadowed by the Holy Spirit? What faith did it take to do that? People want me to tell my attitude to Our Lady. My attitude to Our Lady is one of awe, love. Because she's a human being like you and I, of flesh and blood… I say to myself "what faith!" Have I got that kind of faith? There are days when I think I have faith. But, then, I look at her, and I say to myself: "Why don't I pray for more faith?" Lord, I believe, help my unbelief.

[iii]
Mary exemplifies the faith that expresses itself in trust. In the modern world, we are accustomed to analyzing situations, to figuring everything out. Risk avoidance and hedging of bets are the watchwords of the day. Her fiat to becoming virginally pregnant led Mary directly into a level of trust that beggars our imagination. God placed her, with her consent, in a situation that was humanly impossible, in which disgrace and even death by stoning were almost certain outcomes. She had to trust that God would work things out with Joseph, with the marriage, with everything.
Then there is the faith Mary shows when Jesus left her for his public ministry. Catherine loved to meditate on the Gospel account of Mary and Jesus' other relatives coming to him in his ministry (Mt 12:46-49, Mk 3:31-35, Lk 8:19-21):
When she came to see Him, in front of everybody else, He said: "I have no mother…' Now, we of the rejected generation, we who tremble when anybody rejects us… we who are conformist to the last degree—how would we accept this rejection from our son? With great faith? She did. She simply departed.

[iv]
There is so much about life in Christ that is impossible to understand. To really follow the path of the Gospel will lead us, inevitably, into times of confusion, into situations where we cannot make any sense of what God is doing, what He is asking of us. The faith that Mary displays in this Gospel episode is the faith that is needed at such times. "How many times do we say 'Fiat' when things happen to us? We do not quite understand, because our faith is so weak, what it means."

[v]
In the context of modernity and its challenges, Catherine was especially aware that this trusting acceptance of God's providential designs was going to be crucial in our ability to meet the challenges of the day:
Faith, how deep - how wide is it? I think that our fate depends on our faith… what have we got? To oppose might with faith is to oppose hate with love, and despair with hope. It's all we have. But that means we have God. All things are possible to God.

[vi]
It never occurred to Catherine that the difficulties of faith in the modern world should lead a Christian to withdraw into a safe haven away from the struggles and confusion. Rather, faith gives us the courage to go forth into heroic service and love, and it is Mary who shows us the path to faith. It is Mary who shows us how to do the impossible, how to live in a world that is incomprehensible, and how to meet all situations with a fiat on our lips and trust in God in our hearts:
Why is it that we are unable to say fiat again and again and again? We go into our little cell, and hide ourselves. We think: "God doesn't ask this of me". Christ washed the feet of the people. Why don't we? We've got to get deep into this. We've got to get deep into what it is to be poor. We've got to get deep into what it is to wash feet. We have to get into depths as to what prayer is. And all this we can find in Our Lady, if we turn to her in grave humility, and say to her: "Look, you are one of us. Teach us the heights to which we can rise. We can't bear Christ, but we can be pregnant with love of every human being, with a never-ceasing pregnancy—men and women alike—giving life to other people. Mother, teach us how to do it. Teach us how to love. Teach us how to hope. Teach us how to say "Yes" to the impossible."

[vii]
---